A tale of a tail of a monkey and her tree. Have a sit down and enjoy what you see!
Monkey girl decided to climb up the tree.
No matter how much sissy pleaded, she refused to leave.
She was stayin, this was her tree.
So we called on the big guns.
Look where that got us.
She's still in that there tree.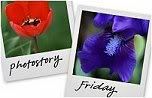 Hosted by Cecily and MamaGeek