Ten years ago, give or take a few months, I made one of the hardest decisions in my life. It was even harder than taking that first bite of broccoli. And we ALL know how hard that can be (except for Savant, but she's weird like that).
It was early in the morning when Mr. Stainrejecting Whitecoat Oncologist came into my room. At least I think it was early morning, it's hard to tell when the only window you have around you is the one to your soul (insert a bit of drama here). He delivered my diagnosis with empathy and sympathy, more empathy than you'd expect from a whitecoat which is why I stuck with him through thick needles and thin. His deliverance of my death sentence was Leukemia. It came with all the lifetime movie network drama one liners in existence. Very surreal. Very chemical. Very dramatized. I felt distanced from the entire thing; almost like having an outer body experience. But one thought did surface from this mess of jangled information floating through my mind.
Who is going to take care of my children when I'm gone.
That was the only fear I had when it came to dying. Who. Who was going to love them like I do. Who was going to take them to church. Who was going to teach them about love. Life. Teen pregnancy and how to avoid it. How to say no to drugs. Keep bad boys from them. Make them stay in school. Teach them how to treat people right. Love them like I do. ::aside:: Wow, I'm having a hard time writing this one. Bear with me.
The mind works quickly when presented with this situation, believe it or not, and brick wall after brick wall I hit trying to find someone to fit the bill. I shouldn't have tried so hard. My little sister did all the work for me. Although I shouldn't say little, she's only 18 months younger than me.
Tut and I grew up like twins. What she had I had, and what I had she tore from my unprying hands. It was love hate. Sometimes we loved each other, most of the time we hated each other. You know, like sisters do. We grew up, grew apart, grew back together once we reached our late twenties and entered our thirties. She never teased me about my age because she knew that she wasn't that far behind. Before the doctors could even find out what was trying to kill me, she drove over 1,000 miles to be with me. She sat her LeBeouf Butt on a very small step stool and read Anne McCafferty's "All the Weyrs of Pern," every single night that I was in ICU. And when it looked like I was going to live long enough to attempt chemo, she stepped up to a bigger plate.
I have to pause in my story here to add her partner, T. T not only gave up being with my sister for the months she was here with me, she didn't hesitate in stepping up to the plate with my sister. From that day on, she stopped being my sister's partner and became my sister.
Back at the ranch.
Tut and T decided to take my girls home with them. We drew up papers. Fixed my will. Had Power of Attorney given to them. They took them away from the chemo, the illness, the on again off again hospital stays. They took them away from seeing their mother fade away and touch the brink of death. They took them to school. They fed them. They played with them. They did homework with them. They took them to church (trust me, they did). Most importantly, they loved them. I still don't think they understand what gift they gave me. They allowed me to do what I had to do to get better. They allowed me the comfort of knowing my girls would have decent, loving parents for the rest of their lives if I didn't get better. That, in itself, is priceless.
Tut and T were down for a visit this past week. They left yesterday, headed back to home, a really big dog, and work. It's always hard saying goodbye to them. It tugs my heart strings to no end. They took Teen Two with them this time. She's going to work for them this summer. Erg!
I miss them all SO SO SO much.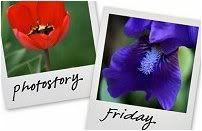 Hosted by Cecily and MamaGeek